2014...
2003...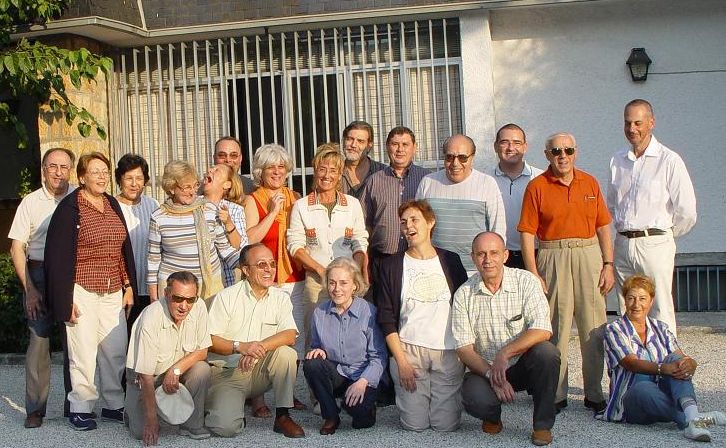 Grupo de la OTS, encuentro en Los Molinos, 2003. / TOS Group gathered at Los Molinos in 2003.
(See below for information in English about the TOS in Spain)
Sed bienvenidos a esta página de noticias acerca de las actividades de la OTS en España.
Como resultado de las condiciones políticas del pasado bastante reciente, la Sociedad Teosófica no pudo actuar libre y abiertamente durante mucho tiempo. Muchos proyectos son, por tanto, completamente nuevos para nuestros miembros lo que hace que tiendan a retrasar el momento de la actividad. Esto también es válido para las actividades de la Orden Teosófica de Servicio, acerca de la cual los miembros están aprendiendo gradualmente a conocer y a participar de forma creativa y entusiasta.
Desde que la OTS comenzó sus actividades en España, se han llevado a cabo iniciativas entre las que se incluyen las siguientes:
- El Ritual de Sanación de la OTS, que se lleva a cabo en seis Ramas.
- Se recoge ropa con regularidad que se entrega a varias organizaciones caritativas.
- El Ritual que llam amos Onda de Paz, que se realiza en dos ciudades.
- La meditación por la Paz la realizan cuatro grupos y varias personas de forma individual.
- Desde el año 2002 se celebra un encuentro anual que asisten miembros de varias ciudades para tratar acerca de aspectos relativos a la OTS y marcar las pautas de actuación futuras.
- Desde el mes de Diciembre de 2009 se envía un Boletín electrónico informativo acerca de lo que es la Organizacióon de las Naciones Unidas y el trabajo mundial que realizan, ya que facilitar esta información y prestar ayuda la ONU era el deseo de varios de los Presidentes Mundiales de la Sociedad Teosófica. Este Boletín llega a cerca de 100 direcciones distintas de correo-e y actualmente se han enviado 28 ediciones (2013).
Si desea unirse a nuestro trabajo contacte con nosotros, estaremos contentos de atender su petición.
---
Welcome to this page of news about the activities of the TOS in Spain.
Because of political conditions in the fairly recent past, the Theosophical Society was unable to operate freely and openly for a long time. Many projects are therefore completely new to our members and they are taking a while to build momentum. This is also true of the activities of the Theosophical Order of Service in which the members are gradually learning to participate creatively and enthusiastically.
Since the TOS began its activities in Spain, initiatives include the following:
- The TOS Healing Ritual is performed by six Branches.
- Clothes are regularly collected and delivered to several charitable organisations.
- What we refer to as the Peace Wave Ritual is performed in two cities.
- A meditation for peace is done by four groups and several individuals.
- Attended by members of different cities, a gathering has taken place every year since 2002 to explore different aspects of the TOS work and to decide on new projects.
- Since December 2009, an e-newsletter has been sent out regularly explaining what the United Nations Organisation represents and detailing its endeavours in the realm of world peace, unity and the relief of suffering.
To see Theosophists support the work of the UN was the ardent wish of several world Presidents of the Theosophical Society. This newsletter is sent to around one hundred workers. 28 issues have been released so far (2013).
If you would like to join us in our work, please contact us. We would be very happy to hear from you.