An inspiring story of compassion and human-animal communication

by Jennifer Anderson, Dive Master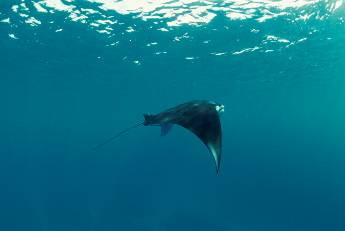 It was like many Maui mornings, the sun rising over Haleakala as we greeted our divers for the day's charter. I noticed the wind line moving into Molokini, a small, crescent-shaped island that harbours a large reef.
The dive went pretty much as expected. The garden eels performed their underwater ballet, the parrot fish grazed on the coral, and the ever-elusive male flame wrasse flared their colours to defend their territory.
The last three of us in my dive group caught the current and drifted along the outside of the reef, slowly beginning our ascent until, far below, something caught my eye. After a few moments, I made out the white shoulder patches of a manta ray in about 120 feet of water.
Manta rays are one of my greatest loves, but very little is known about them. They feed on plankton, which makes them more delicate than an aquarium can handle. They travel the oceans and are therefore a mystery. Mantas can be identified by the distinctive pattern on their belly, with no two rays alike. In 1992, I had been identifying the manta rays that were seen at Molokini and found that some were known, but many more were sighted only once, and then gone.
So there I was... a beautiful, very large ray beneath me. So I started calling through my regulator, "Hey... come up and see me!" I had tried this before to attract the attention of whales and dolphins, who are very chatty under water and will come sometimes just to see what the noise is about.
I kept calling to the ray, and when she shifted in the water column, I took that as a sign that she was curious. So I started waving my arms, calling her [the manta] up. After a minute, she lifted away from where she had been riding the current and began to make a wide circular glide until she was closer to me. I kept watching as she slowly moved back and forth, rising higher, until she was directly beneath us.
Looking back to the ray, I realised she was much bigger than what we were used to around Molokini – a good 15 feet from wing tip to wing tip, and not a familiar-looking ray. I had not seen this animal before. There was something else odd about her. I just couldn't figure out what it was. Once my brain clicked in and I was able to concentrate, I saw deep V-shaped marks of her flesh missing from her backside. Other marks ran up and down her body. At first I thought a boat had hit her. As she came closer, now with only ten feet separating us, I realised what was wrong. She had fishing hooks embedded in her head by her eye, with very thick fishing line running to her tail. She had rolled with the line and was wrapped head to tail about five or six times. The line had torn into her body at the back. And those were the V-shaped chunks that were missing.
I felt sick and, for a moment, paralysed. I knew wild animals in pain would never tolerate a human to inflict more pain. But I had to do something. I forgot about my air, my diver group and where I was. I went to the injured manta. I moved very slowly and talked to her the whole time, like she was one of the horses I had grown up with. When I touched her, her whole body quivered, like my horse would. I put both of my hands on her, then my entire body, talking to her the whole time. I knew that she could knock me off at any time with one flick of her great wing.
When she had steadied, I took out the knife that I carry on my inflator hose and lifted one of the lines. It was tight and difficult to get my finger under, almost like a guitar string. She shook, which told me to be gentle. It was obvious that the slightest pressure was painful. As I cut through the first line, it pulled into her wounds. With one beat of her mighty wings, she dumped me and bolted away. I figured that she was gone and was amazed when she turned and came right back to me, gliding under my body. I went to work. She seemed to know it would hurt, and somehow, she also knew that I could help.