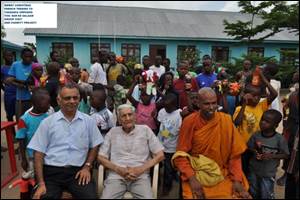 The TOS in Tanzania is developing ties of friendship with the children at the Kind Heart Africa orphanage in Dar es Salaam. It visited them in August, November and December of 2013, bringing gifts including teddy bears knitted by members of the TOS in France and Italy. The main purpose of the Kind Heart Africa Association is to take care of orphans and vulnerable children and empower them to become useful members of society by providing education, health care and vocational training. It is run by a devoted Buddhist monk, Rev. Ilukpitiye Pannasekara Thero. More information on the association can be found here:
On November 10, Mr Ebrony Peteli, the General Secretary of the TS in East Africa, visited the orphanage of 74 children with key workers of the TOS in Tanzania. From left to right:
Mrs Lila Chohan, Miss Khyati Dubal, Mr Harsukh Dubal, Mrs Deepa Kapur, two resident boys of the orphanage, one at primary and the other at secondary level, Mr Ebrony Peteli, orphanage supervisor Mama Kimatare, Mr Jayant Chohan and Mrs Vina Dubal.