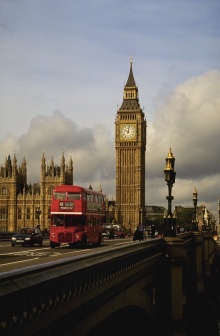 Profound pranaams to my teacher, the Bus.
It is very sad that the widespread car-culture has stopped many people in the world benefiting from the deep lessons that can be learned in bus travel. A bus, like many other situations in life, can become a veritable theosophical classroom.
Whether we speak of urban or regional services, a bus always begin its journey, on leaving the depot, completely empty — save for the driver of course. At that time, which in some countries is very early in the morning and quite dark, the bus stands as a pure possibility of service, of helpfulness.
A bus does not discriminate in picking up its passengers. It does not ask what our religion is, which social class we belong to. Nor does it ask for an identity card. A bus picks us up exactly as we are and takes us where we want to go.
While we are on the bus we become part of a meaningful metaphor: for some time, even if very short, all of us are travelling together, sharing a common space, sitting near people we have never met. During that time there is a potential realization of the all-pervading oneness of the human condition, irrespective of belief, social origin or status. If we care to look at some faces, they have writ large on their foreheads their life-story: worry, sadness, joy, loneliness, excitement and perhaps a hope of better days, a hope of a life less burdened by suffering and confusion. And the bus drives on.
Two incidents, among many, come to my mind when paying homage to this teacher, the bus. The first took place when I was travelling to the Raja Theosophical Centre, in the outskirts of Sao Paulo, on a Friday night. I leave to your imagination what it means to be a bus driver in a city of 17 million people, plagued by mad traffic and ubiquitous violence. It was almost midnight and a black woman was carrying a huge bundle of clothes. She pressed the button to indicate she wanted to get off at the next stop. The driver proceeded to stop the bus and upon realizing she had this voluminous bundle he got off his seat and, with a smile, carried it for her to the pavement. She reciprocated with a gentle smile. I don't know about the other passengers but tears sprang into my eyes.
The other incident happened on the beautiful island of Florianopolis, south of Brazil. The bus was crowded almost to capacity with workers, surfers and pensioners. It stopped to pick up still more passengers, amongst whom was a poor and visibly drunk man with his little son. The poor man had apparently soiled himself, and the smell, in a crowded bus, created a volatile situation. Many passengers objected to his presence on the bus and demanded of the driver that he be put off at the next stop. The driver drove on, leaving a number of passengers simmering with anger. To make matters worse, it turned out that the man in question didn't have any money to pay for the trip.
Then unexpectedly, a man standing next to him quietly offered to pay his fare, which was accepted. When a lady continued her protest this man asked her: 'Do you believe in God?' To which she replied: 'Of course!'
'Then you should know', the man continued, 'that this man is your brother'.
There was a moment of silence, after which a young man got off his seat and stood beside the man and his little boy, defying all the protesters, with the clear intention of protecting him from harm. I still remember vividly the drunk man's eyes, scared, perhaps confused, but holding his son's hand with a firm grip. And for a moment I had the impression that this poor man could have been our teacher, offering us an opportunity to put into practice our belief in the truth that everyone is our brother and sister, no matter what their condition.
Now when I find myself sitting in a bus, I look at my fellow passengers and salute each one as a fellow pilgrim…Instead of succumbing to impatience, boredom or irritation, I recall that the bus can be a moving classroom of wisdom and compassion.