Contact:
Sri B.L. Bhattacharyya
B/4-3, Ishwar Chandra Nibas
68/1, Baghmari Road
KOLKATA 700 054 India
The TOS in India touches tens of thousands of lives each year. Through more than one hundred active groups spread over 20 regions, it runs schools, coaching classes, pre-primary learning centres, boarding establishments for the blind and for orphans, medical dispensaries as well as naturopathy, acupressure, ayurvedic treatment and yoga therapy centres. The TOS healing ritual is widely performed.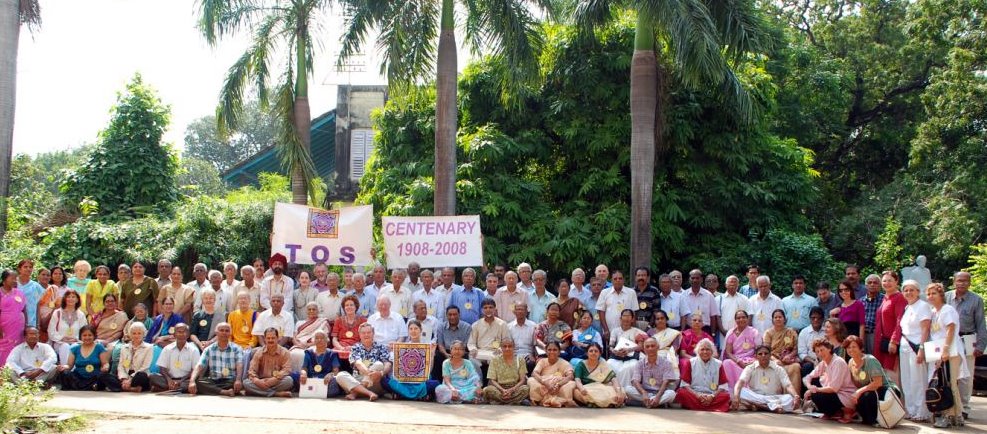 Group photo at the 2008 celebration in India of the TOS centenary
In visiting local groups, the National Director, Birendra L. Bhattacharyya, presents educational materials and mobility aids to the needy, he congratulates workers receiving awards for outstanding service to the community, and takes time to meet with the recipients of aid themselves. He distributes school uniforms, student kits, garments, study material, cooked food, scholarships to meritorious students, prizes to essay and elocution contest winners, and relief materials during natural disasters. He inaugurates self-help projects and new groups and presides as often as possible at zonal and regional conferences. Finally, he spearheads efforts in emergency relief and reconstruction.
TOS groups overseas appreciate being able to contribute to various TOS projects within India, as well as to the work of the Olcott Education Society at Adyar, Chennai, run directly under the aegis of the Theosophical Society. The Olcott Education Society is comprised of:
the Olcott School that provides free education for over 700 children mostly drawn from the local fishing villages;
the HPB Hostel that provides board for a number of boys attending the school;
the Social Welfare Centre where day care for underprivileged children is offered and vocational skills taught to young women;
the Besant Memorial Animal Welfare Dispensary.