Contact:
Renee Sell
c/- 4 Warborough Avenue, Epsom
AUCKLAND 1051 New Zealand

E-mail:
Click to send email:


National web site: http://tos.theosophy.org.nz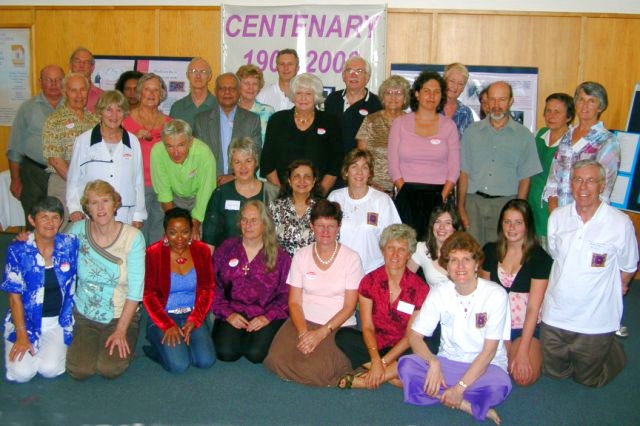 Core workers and friends of the TOS in New Zealand at the TOS centenary gathering
The group and some of the activities we have on special TOS days.
The TOS in NZ was first started in 1910 but it has had several 'incarnations' since then. The current team came together in 2003 and is thoroughly enjoying involving members around NZ in making Theosophy practical.
Our main focus is on fund raising in creative ways for a variety of projects, mainly educational. One of our members donates paintings for raffles or sale, for example. A second produces theosophical bookmarks for us to sell. Another offered a quilted wall hanging. A produce and second hand book table in three or four Theosophical Society branches raises a tidy sum of several hundred dollars each year.
Members annually donate to the Golden Link School in Manila and sponsor the education of over 20 children in Pakistan and India. In collaboration with the Theosophical Society in New Zealand, we also underwrite two adult literacy classes in Karachi. In addition to donations to one off projects overseas we also try to respond to emergency situations such as the tsunami that hit South East Asia in 2004. Locally, we support the Auckland City Mission in its work for the destitute.
Most recently, Maureen Paterson, a particularly dynamic member, organised the filling of a container of over 11,000 books which the TOS shipped to Manila, along with sports equipment, teaching tools, musical instruments, computers and much more. A generous sum was donated by a member to pay for the construction of shelves for the books.
During the TOS International Centennial year of 2008 we undertook a special project in support of the Golden Link School. A fund was set up to provide a scholarship to educate a child there. This is an ongoing scholarship, the capital of which remains inviolate, with the interest income covering the grant. The name is the Geoffrey Hodson Memorial Scholarship in recognition of an outstanding former TOS director in New Zealand. A second fund has also been set up to ensure the availability of Mr. Hodson's books to the public. A campaigner on numerous social issues, Mr Hodson wrote and spoke tirelessly on animal welfare, vegetarianism, world peace, the spiritual education of children, health, healing and meditation.
We warmly invite TOS workers from around the world to contact us if they would like information on how we have gone about setting up some of our projects.