Contact:
Mrs Fareeda Amir
Jamshed Memorial Hall
M.A.Jinnah Road
KARACHI 74200 Pakistan

National website:
http://www.tospakistan.com.pk (NEW - recently changed)
THE TOS IN PAKISTAN
The Theosophical Order of Service has been active in the field of social work in the city of Karachi since the early 1950s; it has provided assistance in many forms to the underprivileged. It functions through two departments (these links go to the Pakistan TOS web site):
1. EDUCATION
2. RELIEF AND REHABILITATION
JAMSHED MEMORIAL MONTESSORI SCHOOL
The Theosophical Order of Service founded this school in 1967. It is run on a non-profit basis and charges the students a nominal fee. It caters for children from the middle to lower middle income families and helps to provide a good educational foundation for them. It is supervised by Montessori trained teachers and attendants and provides a healthy active learning environment for its students.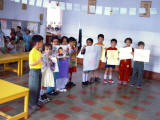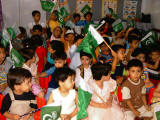 SCHOOL & COLLEGE SPONSORSHIP PROGRAMME
This includes the sponsorship of students of primary, secondary and college levels. The TOS has been working to provide opportunities for bright young people who are unable to afford an education. The applicant is interviewed and the case is investigated. After the necessary investigation a sponsor is found. All the students are from poor and needy families and it is our help that enables them to get an education. Many finish their schooling and go on to get a university degree and are able to better their lives and those of their families. To date, several thousand students have benefited from sponsorship. Because of the help, many have gone on to become productive, successful members of society and include doctors, nurses, engineers and other technical professionals.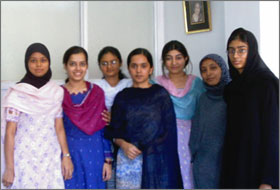 HOME SCHOOL LITERACY PROGRAMME
The Literacy Programme was started in 1997 to enable children, young girls and women without the opportunity for even a basic education to attend classes. Reading, writing and arithmetic are taught by a teacher who holds classes at her own house which is in the same locality as the students.
The name of this programme is the Qandeel project. 'Qandeel' means a lantern and it traditionally signifies 'spreading light'. Our schools spread the light of learning. This local name for our home schools helps our teachers and students to identify with the programme.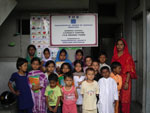 RELIEF AND REHABILITATION
Under the umbrella of this scheme, destitute and aged persons especially widows, are provided with financial aid if they do not have a fixed source of income. Widows with very young children have also benefited from this charity.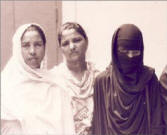 MEDICAL RELIEF
The donations received for medical relief are utilized for medical treatment, hospitalization, procurement of medicines and support for the handicapped. Some needy persons have also been provided with spectacles, immunization and other minor forms of medical treatment.