Partnerships to promote service

From Tim Boyd, TOS USA
In the TOS/USA we find ourselves in a situation that is both fortunate and difficult in terms of our service work. The USA is blessed with innumerable service organisations and government agencies dedicated to helping in a wide range of areas of need. The challenge for the TOS, as a small organisation, is to find avenues through which we can make a useful contribution. The USA is a large country geographically and nowhere do we have a concentration of active TOS members. As a result, we have numerous projects that individual members have initiated in different parts of the country. However, as an organisation historically we have focused our group activities on supporting the efforts of other organisations or projects by fundraising or raising awareness. With our recent international fundraising and our website and magazine we have been able to do some good work in this way.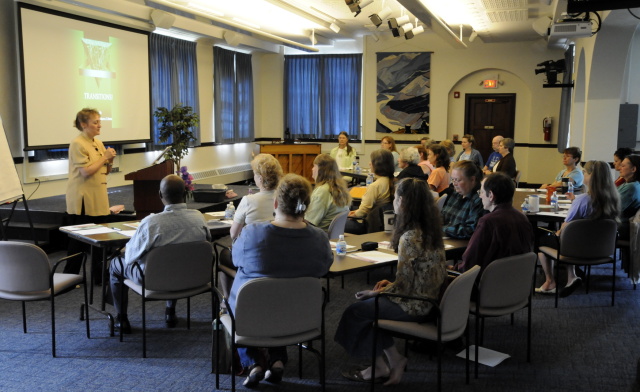 A couple of years ago we were thinking about what we might do to have a greater impact on people's lives. The biblical example of teaching people to fish rather than giving them a fish came to mind. We came up with the idea of Service Workshops. The thought was to identify individuals and groups who excel in their given fields and who are either members of the TS, or clearly aligned with our principles, and arrange for them to conduct an all day (or longer) workshop to train others in methods and techniques that could enhance service work. We interpreted the word 'service' broadly. Basically we viewed service as all activities focused on helping self and others – caring for a family, maintaining personal physical, emotional and mental wellbeing, and so on. Our criterion was that anyone who attended the workshop, be they service professionals or service volunteers, would walk out with something that could enhance their particular form of service. The initial memo for the workshop idea said:
The programs would be aimed at both people in professional service fields and those whose service activities are composed of day-to-day interactions in volunteering – family, church, etc. It would be for those who would like to broaden their field of service and their effectiveness, and would be an opportunity to meet, train and interact with fellow servers.
Below are some specific suggestions for how the program might function:
One focus would be to generate specific local projects and a core group of servers united in a shared experience.

Three weekends would be organised per year, for 1 to 2 years.

All TOS liaison people and local TS members would be invited as well as local non-TS groups engaged in service activities and who might be potential partners with the TOS.

Events would run from Friday night to Sunday lunchtime.

Events would be fee based.

Participants would be encouraged to subscribe for the entire series.

Scholarships would be available, focused mainly on TOS liaison people who must travel.

Ideally the events would be profitable, and would aim to at least cover costs.

Events would be promoted in the Quest magazine, For the Love of Life magazine, the TOS and TSA websites, and through partner organisations.
Our first program was with a remarkable group called The Center for Purposeful Living. This organisation began as the Human Service Alliance (HSA), an all-volunteer organisation based in Winston-Salem, North Carolina. It provided, at no cost and with no paid staff, care for the terminally ill, respite care for children with disabilities, a mediation service, and health and wellness programs for hundreds of individuals. It has also provided training and inspiration for dozens of like-minded service organisations throughout the U.S. After a decade of service to the community, in order to share with others the principles of spirituality, soulful service and group work, the Center for Purposeful Living (CPL), a separate non-profit corporation, was established.
Twenty years ago the leaders and members of this organisation asked themselves what would be required to stay committed and serve purposefully and cooperatively. They identified and put into practice a set of principles known today as TRP, or Totally Responsible Person. TRP is the simple but profound notion that each of us is responsible for our own thoughts, speech, actions and emotions. Over time TRP became a training module which has been used in business, non-profit and volunteer settings around the country. Our TOS board of directors connected with the group in August 2007 when we participated in a retreat with them.
The TOS/TRP workshop was attended by over 40 people. It was a diverse group that included college students, Christian ministers, educators, a good assortment of local business people, and others. The response from all participants was emphatically positive.
Our most recent workshop was led by Dr Martha Libster. Martha is a member of the TS and a remarkable author and educator. Among other things she is a healthcare historian, herbalist and nurse psychotherapist known internationally for her work on the complementarity of nursing practice and healing traditions. The initial thought for the workshop was to focus on end-of-life service. The idea was that everyone will at some point be faced with some level of responsibility in caring for self or others at the end of life. Martha was to be invited to train participants in useful tools of service for this transition process. Gradually the workshop's focus broadened to include Life Transitions in a more comprehensive sense. The flyer for the workshop said:
In times of transition create a plan for sustaining health and harmony. This workshop is specifically geared to harmonious adjustment to life changes. Whether the change is in caring for an ailing or dying loved one, changes in job, in health, changes due to the prevailing economic shifts, or interior changes in attitude and perception, this workshop will provide tools to ease these transitions.
This workshop was attended by 30 people.
Although neither workshop made a profit, they completely fulfilled our goals. We had hoped for the events to be profitable, but early on we recognised that monetary profit was unlikely. The costs that we sustained were minimal and were provided for in our budgeting process.
The events have been valuable on a number of levels. First of all, both workshops were conducted at the Theosophical Society in America's national headquarters. So, there was great mutual benefit in linking the local community's perception of the TSA with service activity. A number of people attending the events had never set foot on the headquarters grounds or heard of Theosophy. Another benefit was that both workshops were interactive and created bonds among the participants that have lasted beyond the events. All participants left feeling empowered by the methods and techniques which were taught. As is always the case with short workshops, people get an immediate sense of uplift, but many of the participants have reported lasting changes in their approach and attitude which they have attributed to the training received at the workshops. Another benefit was that the requirement of sustained effort in the planning and execution of the project deepened the bonds and commitment of our members, particularly our board members.
This is a project which we intend to continue. We have begun planning our next workshop and will be posting future announcements on this site. Who knows, maybe our next workshop will include some of our international TOS members?