Lumen School opens in the Philippines
A new theosophically-oriented school has just opened in a poor farming district of Bago City, about 20 kilometres from the centre of Bacolod City, gateway to the western province of the island of Negros in Central Philippines. Built on a four-hectare property along a national highway, the school's two-storey building has 5 classrooms and a large multi-purpose hall.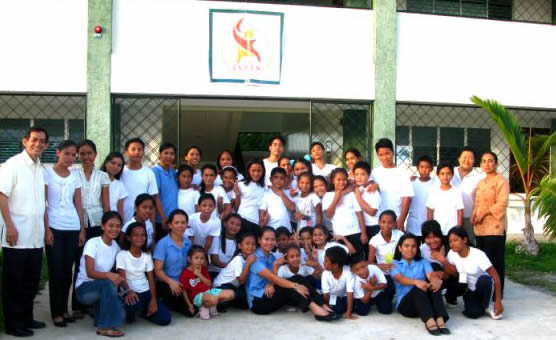 Lumen School opened its doors in May with a free summer class for 97 pre-school to high school students. Here we see some of the students. On the left is TS President Vicente Hao Chin Jr. On the extreme right is Ms. Rekha Nahar, Administrator of Golden Link College; to her right is Ruth Cruz, Administrator of Lumen School. The ladies in blue are the faculty members; from left we see Glony Ganciar, Verna Jamili, Glendale Toledo and Loredel Agustin.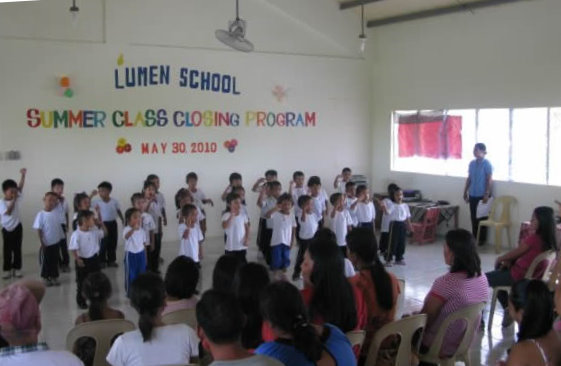 In June, the start of the regular school year in the Philippines, Lumen opened three classes at pre-school level with 33 pupils (nursery, kindergarten and preparatory). Elementary (primary) school will start next school year.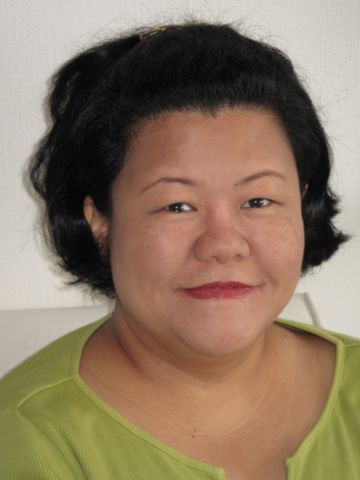 Tuition, books, uniforms and school supplies are subsidized at 75% of cost for 19 of the students, while 14 are full scholars. Selection of the full scholars was done by interview with the school's Administrator, Ruth Minerva Cruz, (at left) upon recommendation by two teachers who did home visits to ascertain the real economic status of the families. The full scholars come from distressed families whose fathers are landless farmers only occasionally employed by landowners and paid a very low daily wage for their work, when there is work. When asked how they survive on so little money, the mothers said they are forced to forage through fields for edible greens and at riverbanks for shell fish. There are days when the family eats only once or twice. The children, who come for a half-day, are served a nourishing high-carbohydrate, vegetarian snack to ensure that their learning is not hampered by hunger pangs and to boost their daily nutritional and caloric intake.
When asked about the driving force behind the building of the school, Administrator Ruth Cruz said, "My mother's main purpose in building a school in an impoverished part of our island was to give the children of desperately poor families a more even playing field in life, to see whether a bit of unconditional help could open up for them a whole new world of possibilities beyond what the current social structure has limited them to. She wanted these young beings to realize that there are other ways to live and so much to explore intellectually and spiritually. Currently, the struggle to survive seems to be the only goal that their families have. Thus, the challenge in Lumen is not only to prepare the children for future careers. There is also the need to teach them self-awareness, principles and transformational skills to guide them towards a more integrated way of living that is in harmony with nature and with the realization of man's higher potential".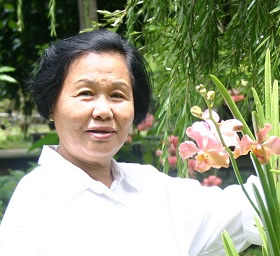 Lumen School is being assisted by Golden Link College in the training of teachers and design of the curriculum. The transmission of theosophical values is a high priority. Funding comes from the Herbe Foundation, set up by long time TS members, Donato and Susana Cruz (at left), in the name of their eldest daughter who passed away at the age of five. Susana was the Founder and President of the Bacolod Lodge of the Theosophical Society. She established three schools: Besant School, Rainbow Play Centre, and Lumen School. Sadly, Susana passed away in January of this year, but not before completion of the school building. Her theosophical work has been greatly supported by her entire family, especially Donato. Administration of the school has been undertaken jointly by her daughters, Ruth and Ruby. Ruby's husband, Philip, is also helping to continue Susana's legacy.
We look forward to regular reports from Lumen School. May it grow into the thriving educational establishment Golden Link College now is.