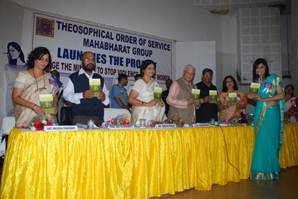 TOS member and author Lipa Rath (in green saree)
at the release of her book, 'Living Courageously'
On January 11, Sri Murlidhar C. Bhandare, Governor of the State of Odisha in India, launched the latest project of the TOS in Bhubaneswar, "Change the mind-set to stop violence against women." Read the Governor's speech here.
A book, Living courageously, written by a TOS member who has been a victim of abuse, was released and a calendar containing paintings by school children on the theme 'Save the planet' was brought out. These calendars contain the sayings of Masters and Theosophists.
There was excellent media coverage of the event. Read what YAHOO! NEWS India had to say here: http://in.news.yahoo.com/hundreds-odisha-pledge-prevent-violence-against-women-165404461.html
Odisha Governor, M.C. Bhandare, signs a saree with the affirmation "Empower women, empower society (humanity)."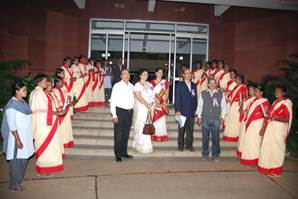 Here we see victims of violence standing in two rows with candles to receive the Governor. These girls are not acceptable to their families because of the stigma attached to them. They are staying in a home for the destitute.