Any idea how many animals are treated per year at the animal shelter at our International HQ? Around ten thousand – almost all free of charge. What about the number of staff members? There are eight: three veterinarians, a manager and four attendants. An extra attendant is needed to drive the ambulance truck; in the meantime the senior doctor, Dr Jagannathan, has to drive it himself. How long has Adyar been engaged in animal welfare work? Since the early 1900s, when members treated injured animals, mangy dogs and so on, and conducted vigorous and successful campaigns to stop animal sacrifices in temples in neighbouring areas. When, in 1964, a member of the English Section of the Theosophical Society, Mrs Dora Crockford, made a donation for animal welfare, it was used to build a dispensary in Besant Gardens to look after sick animals. Many thousands of animals have benefited since.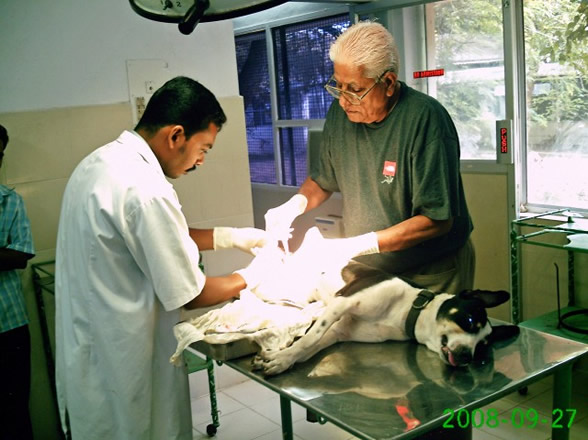 An airy and well-equipped operating theatre was opened in September 2003. At the time, our TOS International President, Radha Burnier, who is greatly committed to animal welfare including by practising a vegan lifestyle, reported: "Recently all the buildings in the Centre — dispensary, kennels, etc. — were repaired and repainted while the theatre was being prepared, which meant making it as antiseptic as possible and providing a refrigerator, a shadowless operation lamp and other necessary equipment. The care includes not only surgery for injured animals but also a programme of birth control."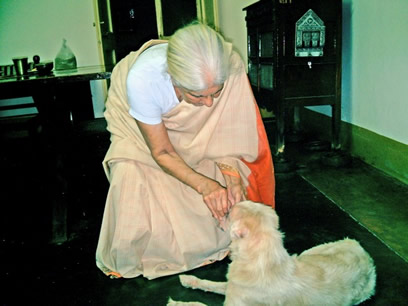 Dr P.D. Jagannathan, M.V.Sc, the senior veterinary surgeon who is also the Superintendent of the Dispensary, says that today the dispensary treats dogs, cats, birds (parrots, pigeons and poultry, for example), and large animals like cows, buffalos, goats, sheep, occasionally a horse and, rarely, a camel or elephant. The Dispensary, he says, undertakes treating all animals for pyrexia (fever), dermatological conditions, worm burdens, accident cases, fractures, dislocation, corneal injury and haematoma. Surgical operations are undertaken for birth control, hysterectomy, tumours, abscesses etc. Each year approximately 3,000 minor operations are carried out, and an average of 50–60 birth control operations are done.
Animals needing post-operative care are sheltered until they are fit. Staff also look after puppies, kittens and older animals that are abandoned at the gate of the Dispensary or even thrown inside. It is of course not easy to find homes for these little creatures. There are a number of cats and around 50 dogs on the Adyar compound that are fed and cared for because they have no other home and have wandered in. Staff ensure that they are neutered.
Outreach Programme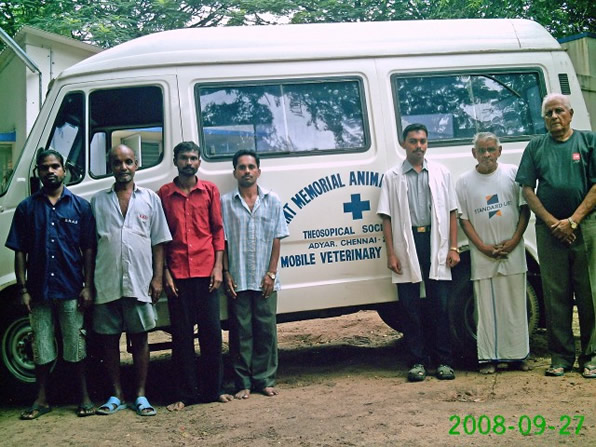 A vehicle donated by the Environmental Society of Madras and fitted with a refrigerator and other equipment travels within a radius of 100 kms (60 miles) to villages where there are no veterinary facilities. All the animals already mentioned and sometimes pigs are treated. All quadrupeds are de-wormed and given foot and mouth vaccine. Dogs are also given anti-rabies vaccine injections. Minor operations like abscess opening, wound suturing and castration, and fracture setting and tests for pregnancy are done. Since early 2004 when the programme was started, more than ten thousand animals have been treated.
Upgrading of Dispensary buildings
Approximately 100,000 rupees (US$2,100) have recently been spent on the renovation of the dog kennels, the Outreach Department equipment, operation theatre, sheds, gates, grills and roofing. Expenses like this, along with medical supplies and food for the animals (strictly vegetarian!), are constant.
How is all this work financed? By you. By us. That is to say by members of the TOS and TS around the world. Without our donations to the Animal Welfare Endowment Fund, the work would stop.
Donations
The Dispensary runs on a monthly deficit of around 25,000 rupees (approx. US$500). Of course, the more money there is available for treatment, the better the care for the animals is.
If you would like to contribute, donations marked for the Fund may be sent from within India to: The Treasurer, Theosophical Society, Chennai 600 020. Donors living overseas may do an electronic transfer by supplying this information to their bank:
Standard Chartered Grindlays Bank Ltd.
Sorrento Branch
Adyar, Chennai-600020, India
Account name: The Theosophical Society
Account number: 42810001582
Swift code: SCBLINBBXXX
Please be sure to send full details of the transfer to the treasurer as soon as the remittance is made: ts_treasury@sify.com
Alternatively, you can ask the General Secretary/President if your Section would be willing to accept a local currency cheque and forward the money by electronic transfer, along with the other donations, in one lump sum. Any help you can give will be greatly appreciated – by our younger brothers.