The SEE Project, India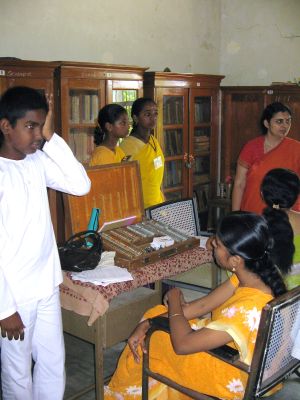 The Theosophical Order of Service, Chennai Region, India, has initiated a new project, extending the range of medical support its members already provide to disadvantaged people in their area.
The SEE (Seeing Eyes for Everyone) Project was launched in September 2007 to mark the 150th birth anniversary of eminent Theosophist, Damodar K. Mavalankar. A logo for the project was designed by a TS member from Spain, Silvia Sanchez Ortega.
So far, screening for vision impairment has been carried out in five schools and two slum areas, with approximately 4300 school children and 396 slum dwellers examined. This screening identified 191 school children and 128 slum dwellers whose vision could be corrected with spectacles and these were provided free of charge. Seven slum dwellers were operated on for cataract removal, again at no cost to themselves. More recently, about 75 workers on the Theosophical Society's Adyar Estate were screened as well as a number of orphans from the area.
How does the SEE Project work?
It is a collaboration between the TOS and the Udhi Eye Hospitals in Chennai, which provides highly subsidised medical care. The TOS in Chennai identifies deserving cases and institutions. Their member-volunteers make the non-medical arrangements and the Udhi Eye Hospitals send professionals to do the screening. If further treatment or glasses are required, the children and adults are sent to the hospital.
The TOS in Chennai coordinates the billing, while monitoring the numbers screened and treated. Occasionally, TOS medical coordinator Dr Sunita Maithreya offers a general medical check-up in conjunction with the eye screening. Mr C.V.K. Maithreya, President of the TOS, Chennai Region, Dr Sunita Maithreya, Dr R. Revathy, Dr P. Nagaraj and Mr K. S. Amuthanathan provide the energy behind this project and donate their time as volunteers. Ms Sharada & Ms Shanti from the Udhi Hospitals are their organisers and there is a team of optometrists. Dr Parthasarathy of the hospital is a good friend of the TOS in Chennai, as is its promoter, Dr Ravindran. Their help has been invaluable and this team effort between the TOS and hospital staff has been vital to the project's success.
How can you or your group help?
To date, the TOS in France has been the major sponsor of this project. It receives the bill and pays the hospital directly by electronic transfer. Costs are minimal because of the Udhi Hospitals' generosity. The concessional cost for spectacles is Rs 200 (approx. US$4.50) and for cataract surgery, RS 1,000 (approx.US$22) per eye.
As Mr C.V.K. Maithreya says, 'The need is great and our seemingly large efforts cover but a few of the millions in India who need help. Therefore we need to keep going at the best pace possible. It is the support of generous donors that has made this a viable project. It is moving to see the difference that improved sight makes to the lives of those it is our privilege to assist.'
If you'd like to help or would like more information, contact Mr C.V.K. Maithreya by email at: cvkmaithreya@gmail.com & cvkm@satyam.net.in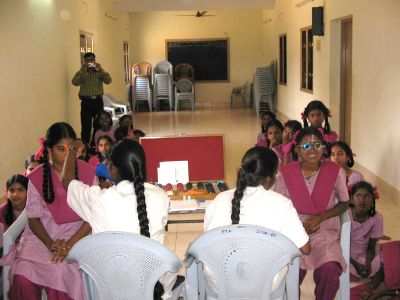 You might also like to read Cornelia Crowther's report on her experience in opening one of the SEE Project's medical eye camps.