Are you interested in making a difference?
The TOS works locally and internationally in such areas as -

education
social welfare & justice
healing
peace
animal concerns
the environment
emergency relief

Would you like to join us in our work? You will find more information and ways of getting involved on this website.
The TOS was founded to provide a framework in which people can engage in creative, practical and humanitarian action in a theosophical spirit. It offers opportunities for participation in activities promoting the First Object of the Theosophical Society - To form a nucleus of a universal brotherhood of humanity without distinction of race, creed, sex, caste or colour.

It also acts as a forum in which people may air their views on global affairs in the light of spiritual principles and the ideas of the theosophical philosophy - one source of unity beyond outward differences; the interrelatedness and interdependence of all forms of life; the ordered unfoldment of the cosmos in accordance with natural law.
---
Recognition of the unique value of every human being expresses itself in reverence for life, compassion for all, sympathy with the need of all individuals to find truth for themselves, and respect for all religious traditions.

— The Theosophical World View
---
TOS e-newsletter "TOS intouch.on-line" - The e-newsletter is emailed to subscribers regularly. Past issues can also be read on this website -
View e-newsletters
TIP: Refreshing your browser display - Sometimes when you re-visit a website you might not see any new changes because your browser is getting the data from your own computer, left from your last visit. If this might be so, click the browser's Refresh button. On recent browsers, that is the curly arrow on each browser tab.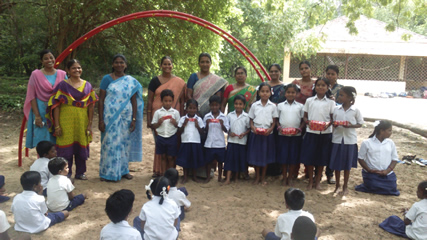 TS/TOS Kenya begins Youth Empowerment Programme

Three young men completed training in landscaping and gardening in April as part of TOS Kenya's new youth empowerment programme. The combined efforts of the TS, TOS, local business and community leaders in launching the programme is an exemplary model that can be followed by us all.
(More...)

Service and Spirituality - Vincente Hao Chin, Jr

An orientation towards service is the natural flowering of the spiritual life. But the reverse is also true: an orientation towards service is a pathway towards spirituality.
(More...)

First National Theosophical Order of Service Camp in Varanasi, India
This past March, for the very first time, the Theosophical Society hosted an all-India TOS gathering at its headquarters in Varanasi for representatives from most of its 21 regions. The goal of this event was for members to learn about each other's work in alleviating suffering and to come to appreciate the difficulties at the grass roots level. The event was a great success.
(more...)
---
Olcott Memorial Higher Secondary School
For over 120 years, the Olcott Memorial Higher Secondary School (OMHSS) has been providing a solid education for underprivileged boys and girls in Adyar, a suburb of Chennai in India. The school needs our help in order to continue on the road to goals of providing a first class education based on theosophical values and principles.
(Read more..)

Click country name for details of each branch...
Argentina
Australia
Bangladesh
Bolivia
Brazil
Canada
Colombia
Costa Rica
Dominican Rep.
England
Finland
France
Hungary
India
Italy
Kenya
Mexico
New Zealand
Pakistan
Peru
Philippines
Portugal
Puerto Rico
Singapore
Slovenia
Spain
Sweden
Tanzania
Ukraine
Uruguay
USA
Wales
Zambia
---