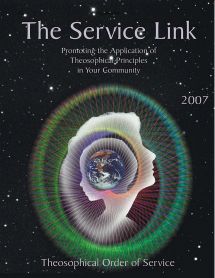 TOS International Magazine
'The Service Link' (English & español)
(Discontinued 2006-7 Replaced by 'in-touch online' e-newsletters)
The Service Link is the International TOS printed magazine. It reports on activities dedicated to the betterment of society, the protection of the planet and the spiritual uplifting of all. It has a section in Spanish about TOS activities in Spain and South America. For more information about receiving The Service Link, contact the National Director in your country or the International Secretary.
It is also available here for download as Acrobat PDF files. You will of course need a PDF Reader installed on your computer. To download the PDF file without viewing it, for later viewing or printing, right-click the link and select Save. To view it, left-click.
If you don't already have a PDF reader,
see details for downloading a PDF Reader .
To minimise download sizes for both English & Spanish readers, the sections of each magazine in English and in Spanish have been separated.
English language pages (páginas en inglés) -
Pages in Spanish - Páginas en español -
---
Meet Riza Balino and Rekha Nahar: the team in the Philippines that produces and despatches The Service Link for the international TOS. Riza does the layout and Rekha organises the mailing. This publication is only a minor part of their work. Riza takes responsibility for all the computer work and preparation of numerous publications: the Philippine Theosophist and the Theosophical Digest, for example, and more recently the Theosophical Encyclopaedia. Rekha is the Administrator of the Golden Link School and two other schools in the Philippines, as well as in overall charge of TOS projects in the country. A big thank-you to Riza and Rekha for all their work for the international TOS over a long period.
---